Indulge your senses in a place where you can get exponentially more out of life. Wake up every morning to the serenity & freshness all around. Treat yourself to some much-needed retail therapy at one of our city's premium shopping centres. Tantalise your taste buds at an array of foodie delights. Or simply sit back and feast your eyes on the infinite beautiful snow-capped mountain views. This is life, This is bliss.
Bliss at Latimer is as stunning on the outside as it is inside. The homes are designed aesthetically in a modern and stylish way that is sure to make heads turn and invoke awe in all who set their eyes upon it.
Stylish. Modern. Opulent.
The ensuite spaces are equipped with the best of all worlds. Luxuriously designed showers, and perfect lighting, come together to create a space that is nothing short of grandeur.
Private, Personal, and Pleasing.
The master bedroom, the grand space of the house, is defned by pure architectural aesthetic and luxurious details. The master bedroom is spacious and elegant and is the perfect space to rest and retire to after a long and busy day.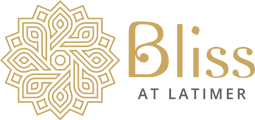 Sales Centre (Opening Summer 2022)